New York Toy Fair Wrap Up: Top Trends of 2016
Feb 18, 2016 — CameronMQ
With over 150,000 products from 1,100 different manufacturers, navigating the aisles of Toy Fair New York gives a unique perspective into the toy industry as a whole. Here are the top five trends we noticed from the 2016 New York Toy Fair: Create and Play, Augment with Apps, Retro Movement, Logic/Coding, Air and Space.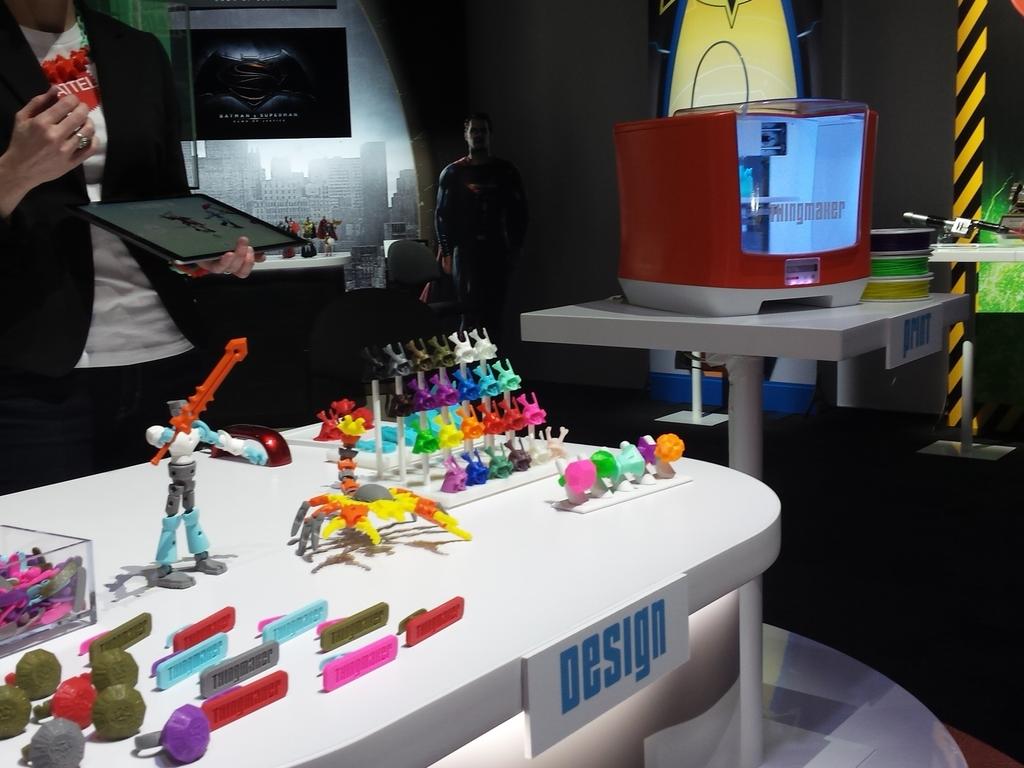 Create and Play
Sewing kits are getting a modern new twist with sewable electronics. Smart Labs
Sew Science line
and Thames and Kosmos
Geek & Co. Crafts! Sewing Circuits
both allow kids to sew LED lights directly into their fabric creations, opening the door to great new ideas. Keep your eyes open for more kits like these.
Bloxels™
uses physical cubes to create a templates that load as digital content.
Each colour of block represents different digital content like water, lava or gold coins. It's a fun, easy way for kids to learn the basics of programming their own game, including spriting, level design and plotting. All created content can be uploaded to the online database and traded with others for using game currency acquired through gameplay.
When kids understand a process it can really them appreciate the results. Being able to design, customize, and then enjoy playing with their creation allows for unparalleled enjoyment. As the technology increases and prices decrease 3D printing will be heavily influencing the direction of the industry. Piecemaker™ is taking a kiosk approach by providing retailers with on-demand 3D printing booths and Mattel brings 3D printing directly to the home with the sleek new Thingmaker™. Create full sized figures using ball and socket assembly, jewelry, or anything else you can imagine. The accompanying app streamlines the entire process making it as easy as the click of a button.
Augment with Apps
Interact with Elmo on a whole new level with LOVE2LEARN Elmo. Smarter than ever, Elmo now interfaces with Bluetooth™. Parents can customize Elmo to their child's interests, set focus areas and levels for Elmo to teach and use preset phrases to actually talk to your kids through Elmo. A simple press of a button on your device have Elmo ask 'Johnny, do you need to go to the bathroom?'.




Air Hog Connect from Spin Master uses a playmat to create a virtual city on your smart device in need of saving. Physically fly your drone around to fight aliens, put out fires, and more in the virtual app. Colouring books continue to benefit from the virtual word. A follow up from Crayola's Color Alive seen last year, Painting Lulu has new Paper-to-Digital Coloring Packs featuring My Little Pony and Angry Birds. The image recognition technology scans in the colouring you've done and duplicates it on the app. Zoom in, make fine tune adjustments and share. All the colouring pages are preloaded into the app and kit contains a tactile stylus to make digital colouring a breeze.




Using the technology already in your pocket, Science X Smartscope from Ravensburg turns your mobile device into a microscope. Use the removable underlight and two levels of magnification to zoom in on whatever you can think. Check it out in real time or snap a picture to save for later. If you're feeling creative, Director's Cut™ from KNEX turns your mobile device into a film camera. Learn about story building and the science behind top action film making.
Retro Movement
Trolls are back along with a host of other beloved toys. Trolls Hug Time Poppy by Hasbro really caught our eye as a smart, cuddly plush toy. Princess Poppy, voiced by Anna Kendrick, is always in a mood for a hug. Lights, music and sound, as well as matching bracelets for both you and Poppy creates a unique bond and interactivity.
After half a century owned by The Bryan, Etch-a-Sketch is moving north. While no new products were shown we expect Spin Master has something in the works. Also from Spin Master, Popples are making a return. With an updated look, new content and the same bunchup-popout action we expect them to be huge. Teletubbies and Power Puff girls are also both releasing new content with Spin Master having beautiful plush toys and playsets for both.
A classic from the 80s, Mattel is reintroducing Hot Wheels: Criss-Cross Crash. Featuring four loops and intersection Criss-Cross Crash has the same mayhem you'll remember. Ravenburger is bringing back and updating a classic with Labyrinth Ocean. New rules and features compliment the same every changing grid shifting game.
Air and Space
Logic/Coding
It's never too early to teach the basics of logic and coding. Code-apillar serves as an introduction to algorithms as kids place module sections which each contain directions. Kids can free play or attempt to create challenges for their Code-apillar through. Learning Resources formalizes the challenge aspect with STEM Robot Mouse Coding Activity Set. Become the scientist as you use your coding cards to teach your mouse to navigate the maze and find the cheese.
LightUp adds Bluetooth to their Tesla Kit to streamline the programming process. With LightUp Tesla: Bluetooth Edition simply drag and drop instruction and hit upload. Same magnetic interface allows it to interact with previously owned kits. Build included projects or design anything you can imagine. Learn advanced circuitry with ThinkFun's Circuit Maze. With 60 challenges, kids explore series and parallel circuits trying to light up the beacon.
CharmBricks™ Bracelet brings the friendship bracelet trend to the 21st century. Each brick on the bracelet lights up individually to create your own special sequence. Using the app, it's as simple as dragging and dropping colours to their respective blocks Each block has a slot to add a trinket for full customization. Future plans to add proximity sensors enabling kids to come up with 'passwords' when they get close to each other will push this from the WOW category into a must own.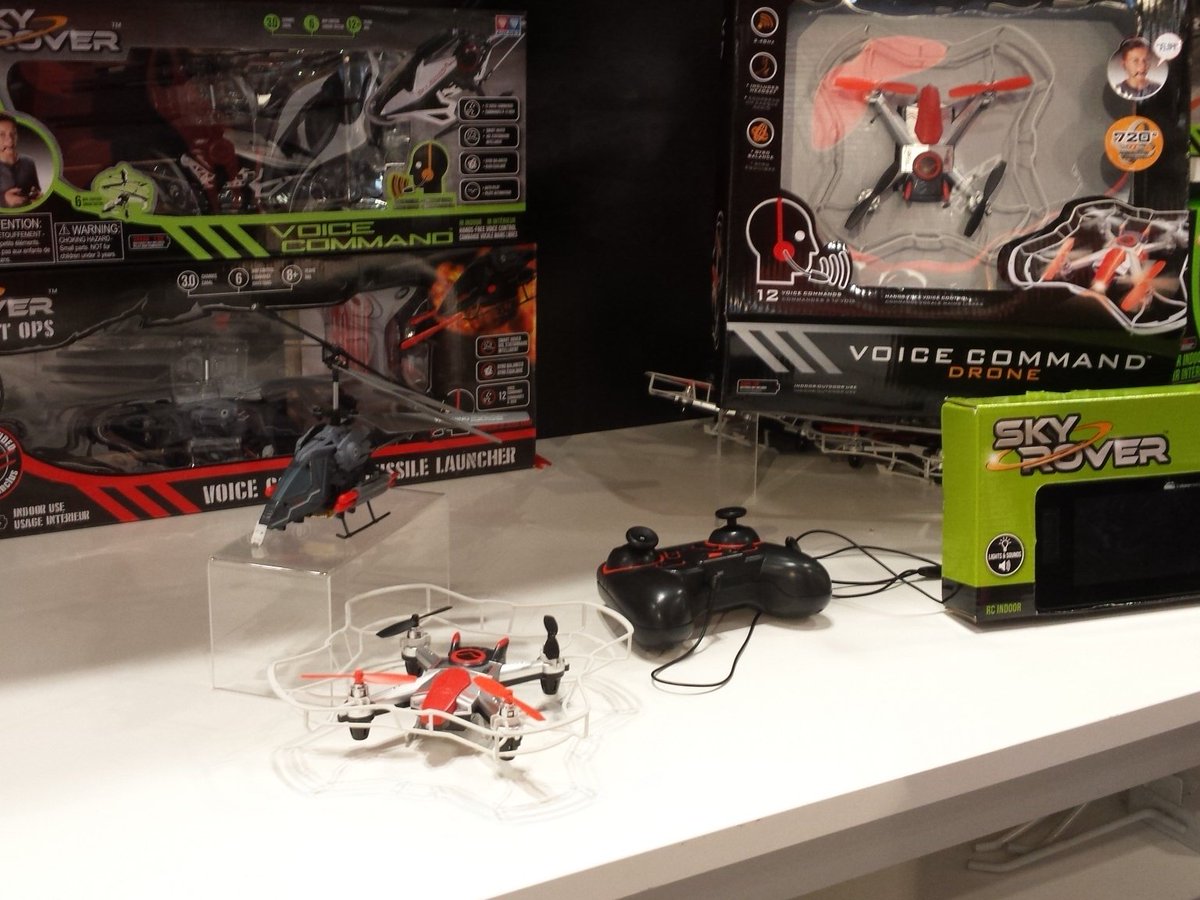 Air and Space
The ultra portable Pocket Drone from Odyssey Toys is small enough to fit in your pocket and foldable wings protects it from damage. Take your drone on the go and amaze your friends anytime you have a bit of downtime. The Sky Rover Voice Command Drone from Auldey Toys innovates the control aspect of flying by eliminating the controller. Responding to 12 different voice commands simply say 'Take off', "flip" and more. Even Barbie is getting a new ride with Barbie Star Light Adventure RC Hoverboard.

Spin Master's Millennium Falcon Quadcopter combines Star Wars and drones in a beautiful functional model. Pull off all your favorite moves from the movies. The incredibly smart REV from WOWWEE is getting an aerial counterpart in REV Air. Interact through the app have it chase your car in autonomous mode or fly it around on your own.
Uncle Milton adds a touch of virtual reality to its best selling planetariums with In My Room Space Expedition. Coupling a beautiful bright planetarium to illuminate your room with a virtual tour of space allows to kids to see the sky from any dimensions. If you interest is NASA and space programs in general you're in luck. Xtronaught pits player against player in a race to develop the most successful space program. The board game, designed by NASA's OSIRIS-REx mission leader Dr. Dante Lauretta explores the decision making, politics and funding issues faced every day in the space exploration industry.